5thSeptember 2015 brought us a truly beautiful country wedding. The bride and groom had a very strong vision of the wedding that they wanted and through an enormous amount of hard work and making they pulled it off. A team of family and friends put everything in place the day before.
The groom is an electrician by trade and lights played a large part in the overall effect - strings of fairy lights lined the terrace and flowerbeds, strings of bulbs lit the way to the marquee and homemade lanterns hung in the tree on the lawn along with a birdcage filled with candles - a magical sight.
The bride and groom were determined to get married outside and the weather was on their side. Guests sat on straw bales covered with vintage tablecloths and huge rolls of hessian had been bought to construct the aisle which was lined with flowers.
Tubs of flowers decorated the grounds - the tubs had been made by the bride's father and filled with perennials donated by a family friend - a garden in the making for their new home. Hessian was used again round the marquee which was on the main lawn.
After the ceremony, guests mingled on the lawn for drinks and canapes, while the bride and groom went off to have their photographs taken in the grounds by Claudia Claudia Vye Photography -http://www.claudiavye.com - The bride and Claudia had spent some time before the wedding choosing places for the photographs and this shows in the beautiful, artistic and original pictures taken.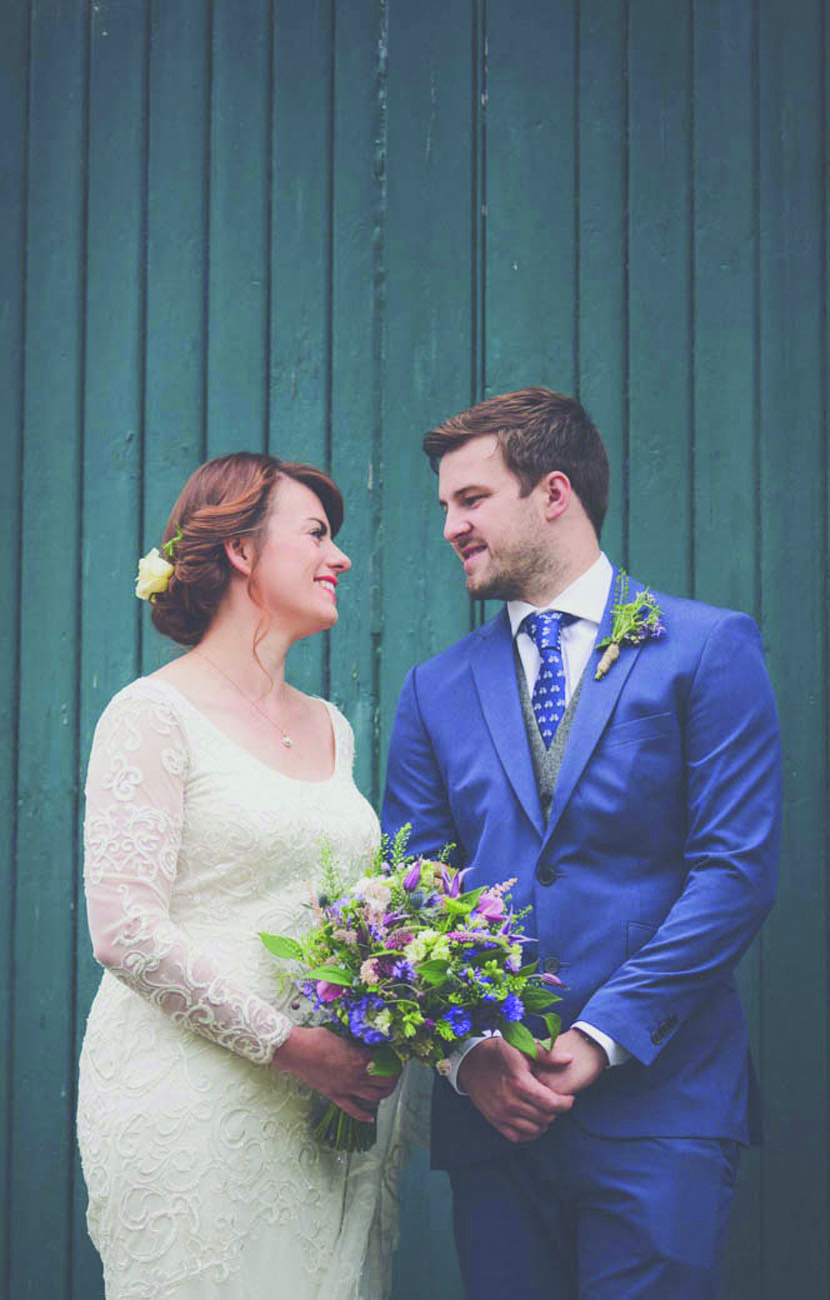 The bride was cooking right up until her wedding day! She made her own cake and made or sourced all the food for the Wedding Breakfast - amazing! The caterers from the True Lover's Knot - http://www.trueloversknot.co.uk - served the food with impeccable style.
After the meal, the party were joined by evening guests and they danced until midnight to the sound of a Folk Band - Liar in the Light - a youth band from Devon (https://www.facebook.com/liarinthelight ) who were fantastic and kept the dance floor full all evening.
The following day, the guests who had camped in the grounds joined family and other friends for brunch in the sun, followed by a grand tidy up session.
The bride and groom left for a honey moon in Morocco and a wonderful weekend sadly came to an end.