August Bank Holiday brought us a beautiful celebration of a wedding held earlier in the year in London. Guests came from all round the world and many of them joined the glamping village set up in the playground field where they camped from the Friday to Monday - ww.bellandbreakfast.co.uk/info@bellandbreakfast.co.uk )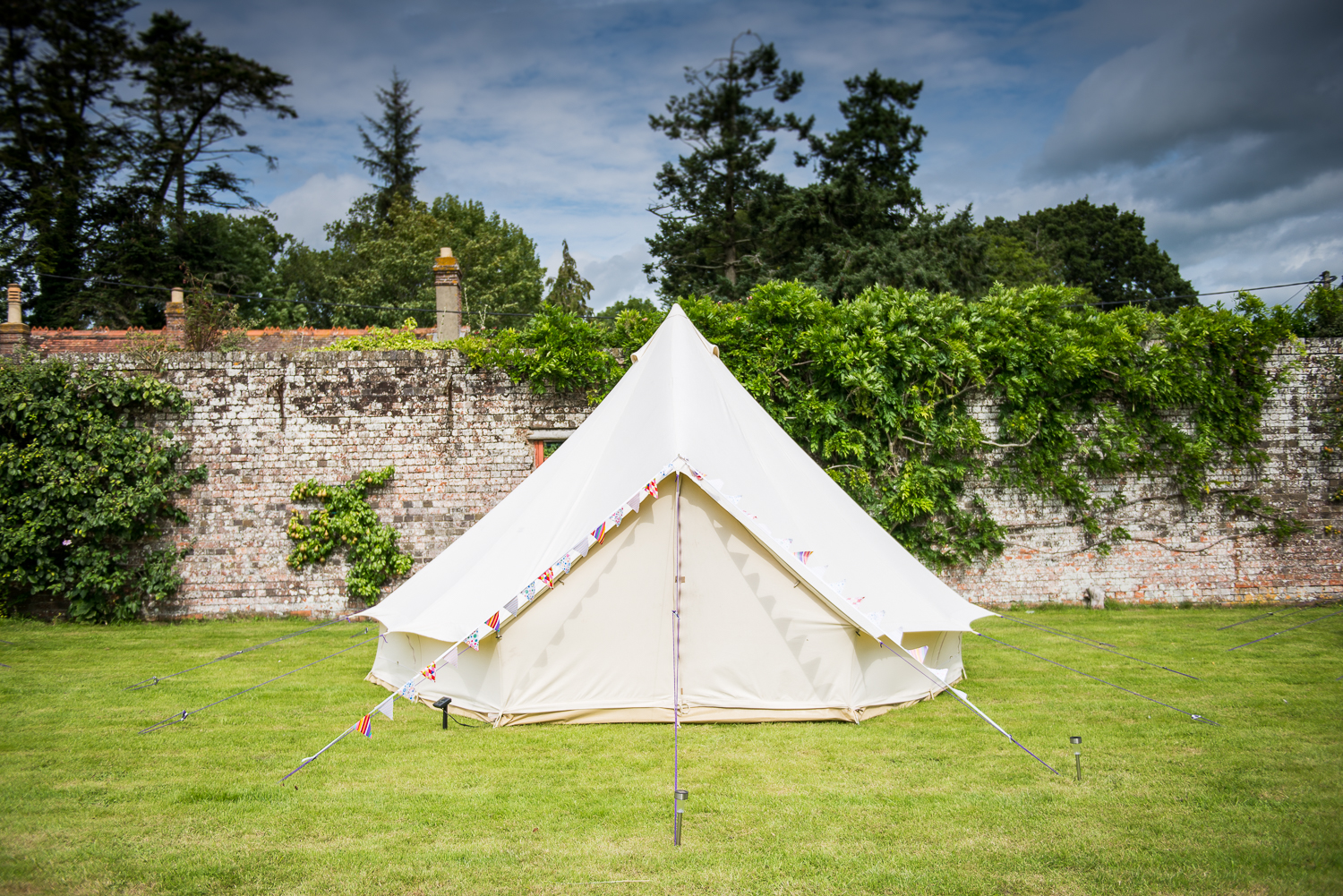 All photographs by ( stefanosnowskiphotography.com )
The bride and groom arrived in "Ben Hur", an open Morris Minor, bedecked with flowers, driving onto the lawn where a "blessing" was held by the gate on the Ha Ha. The wreath decorating the gate and the cut flowers in the tent were provided by Florabunda in Blandford Forum.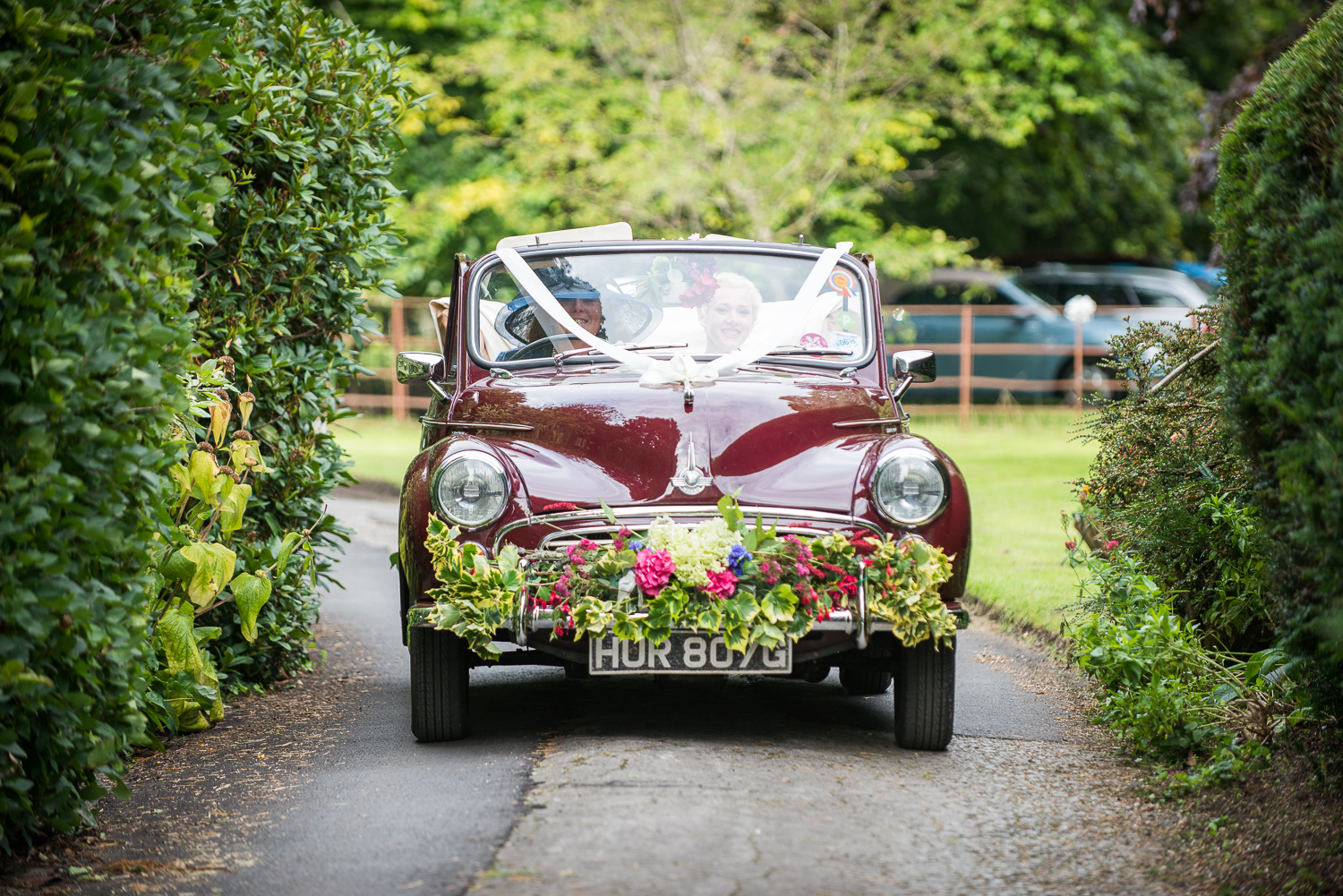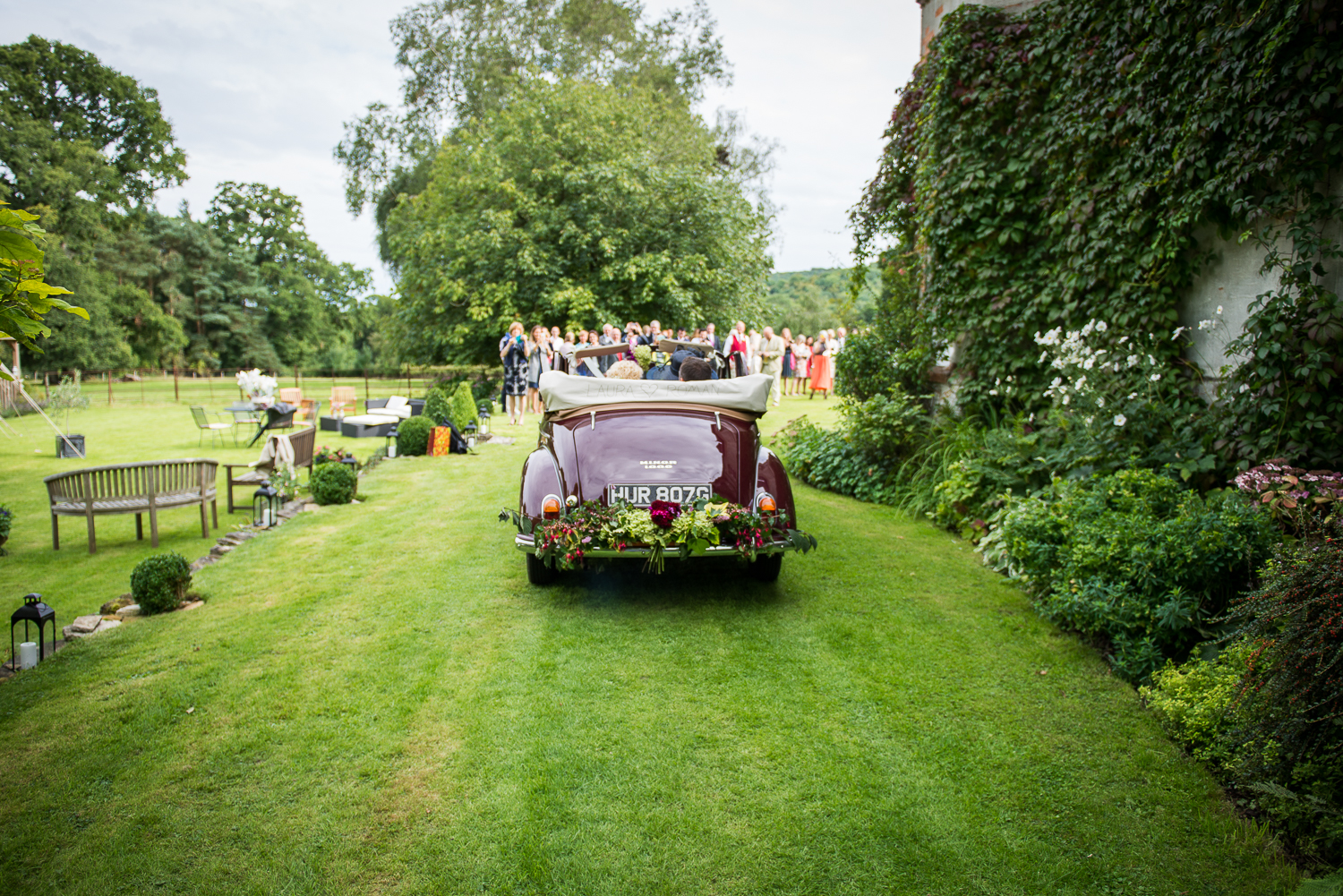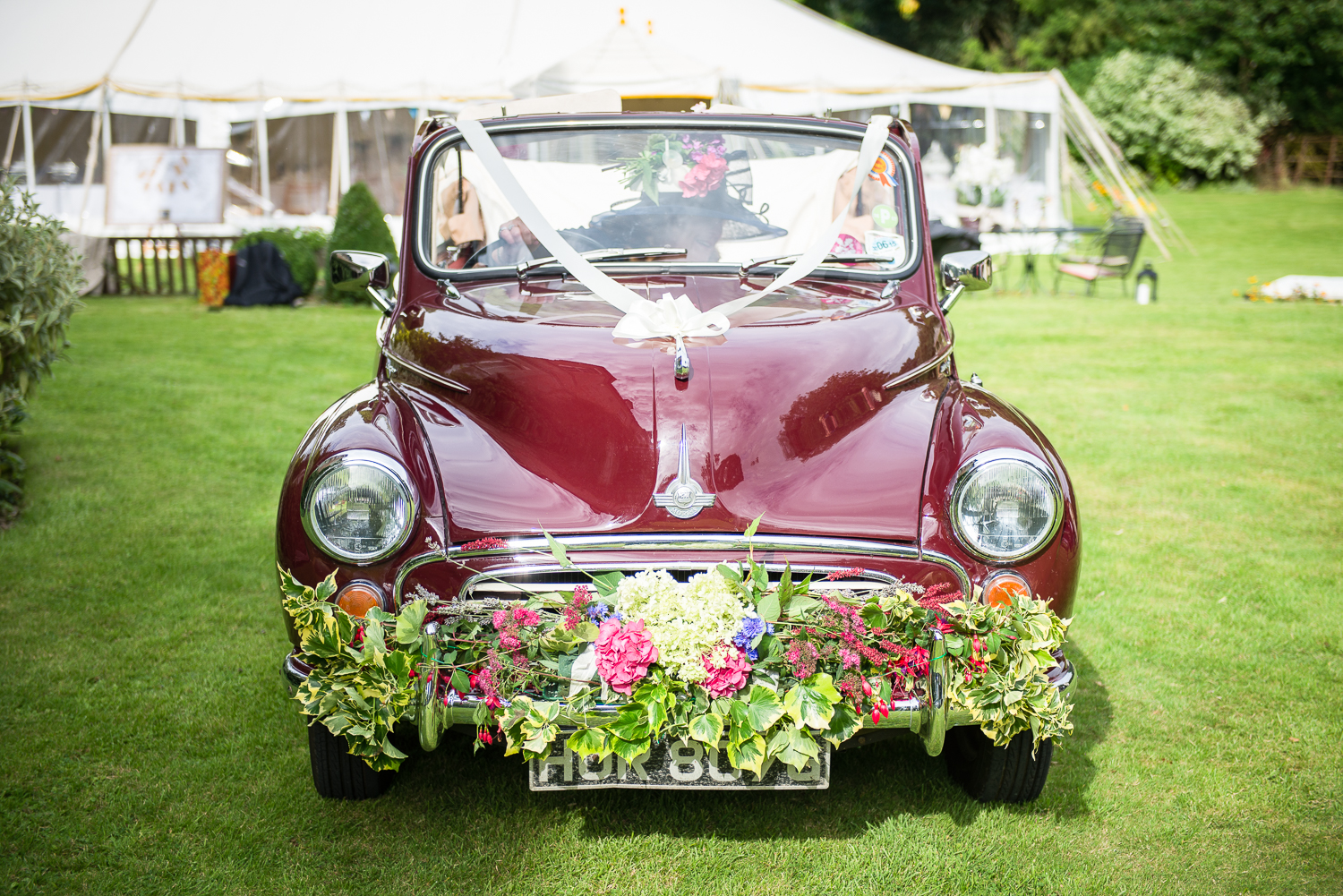 The bride and groom mingled with their guests before going off to have photographs taken in the fields by Stefan Osnowski (stefanosnowskiphotography.com) before more formal ones of the family in front of the house.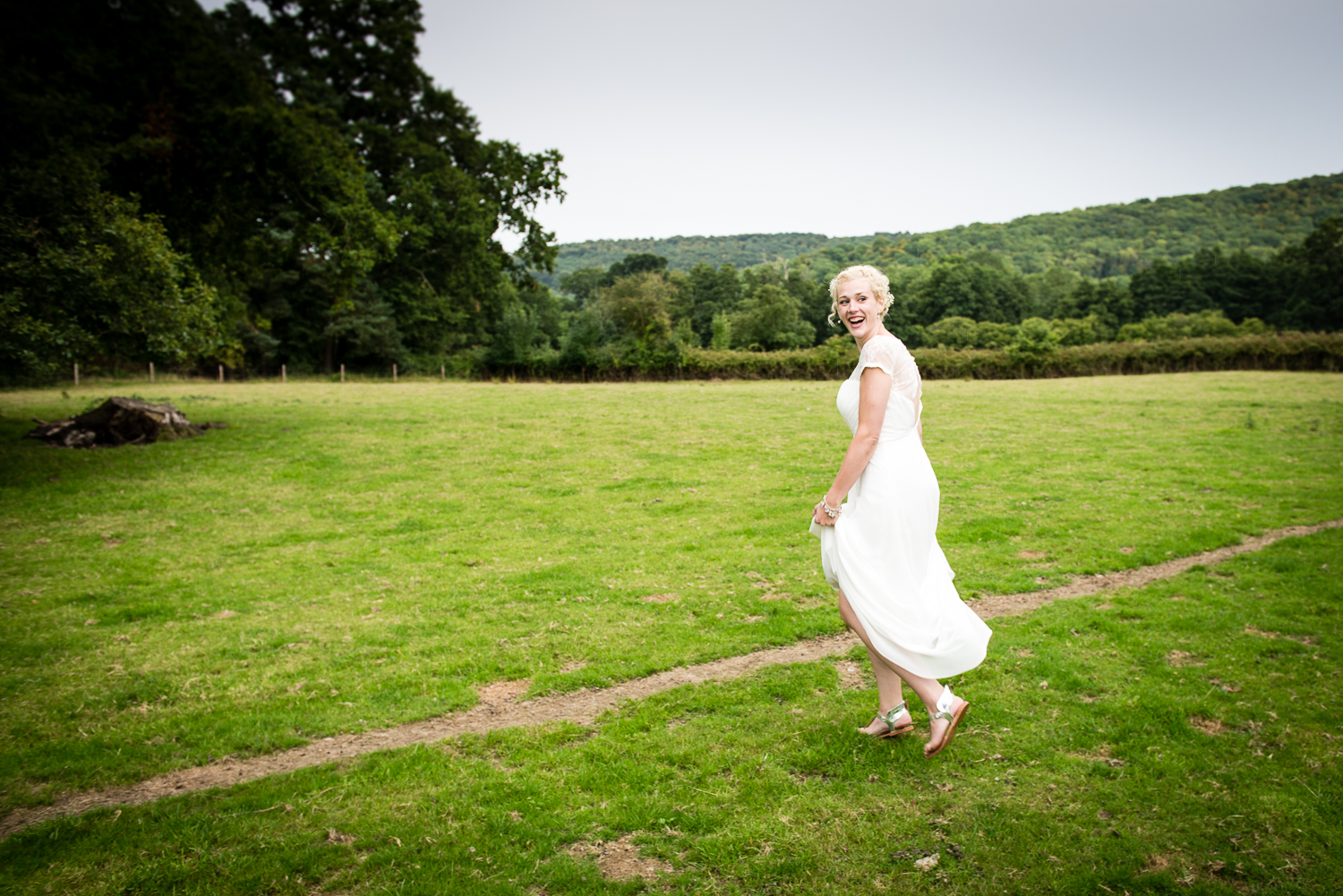 Whilst this was happening, guests enjoyed drinks and canapes on the lawns and had time to explore the marquee (http://www.collinsmarquees.co.uk) while the bride and groom went off to have photographs taken in the grounds.
The marquee had been decorated the day before with bunting, and beautiful flowers, arranged by family friends. Many hours had been spent making personal touches from napkin rings to notice boards, table decorations to fans and hankies for those weeping during the speeches and ceremony and speeches.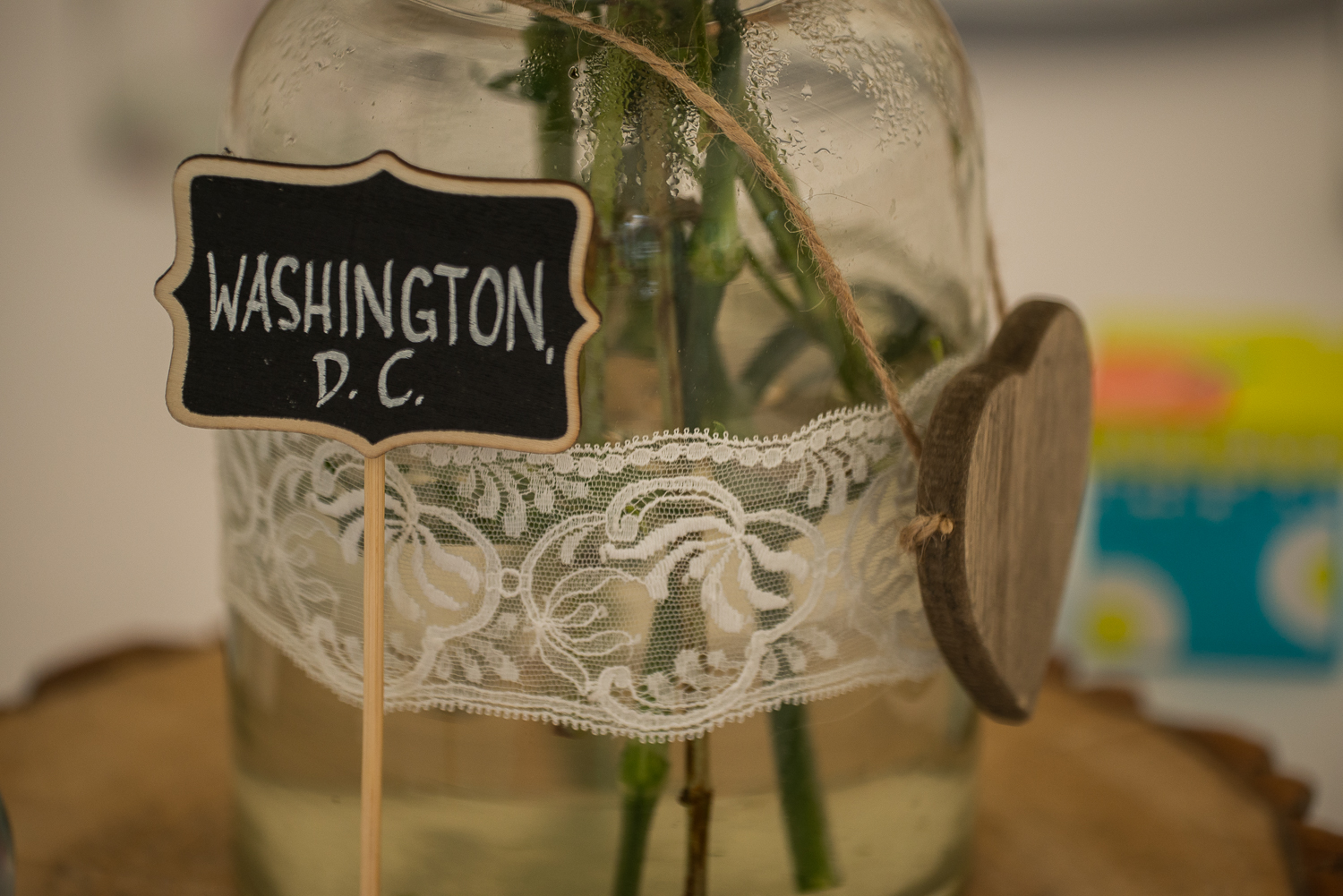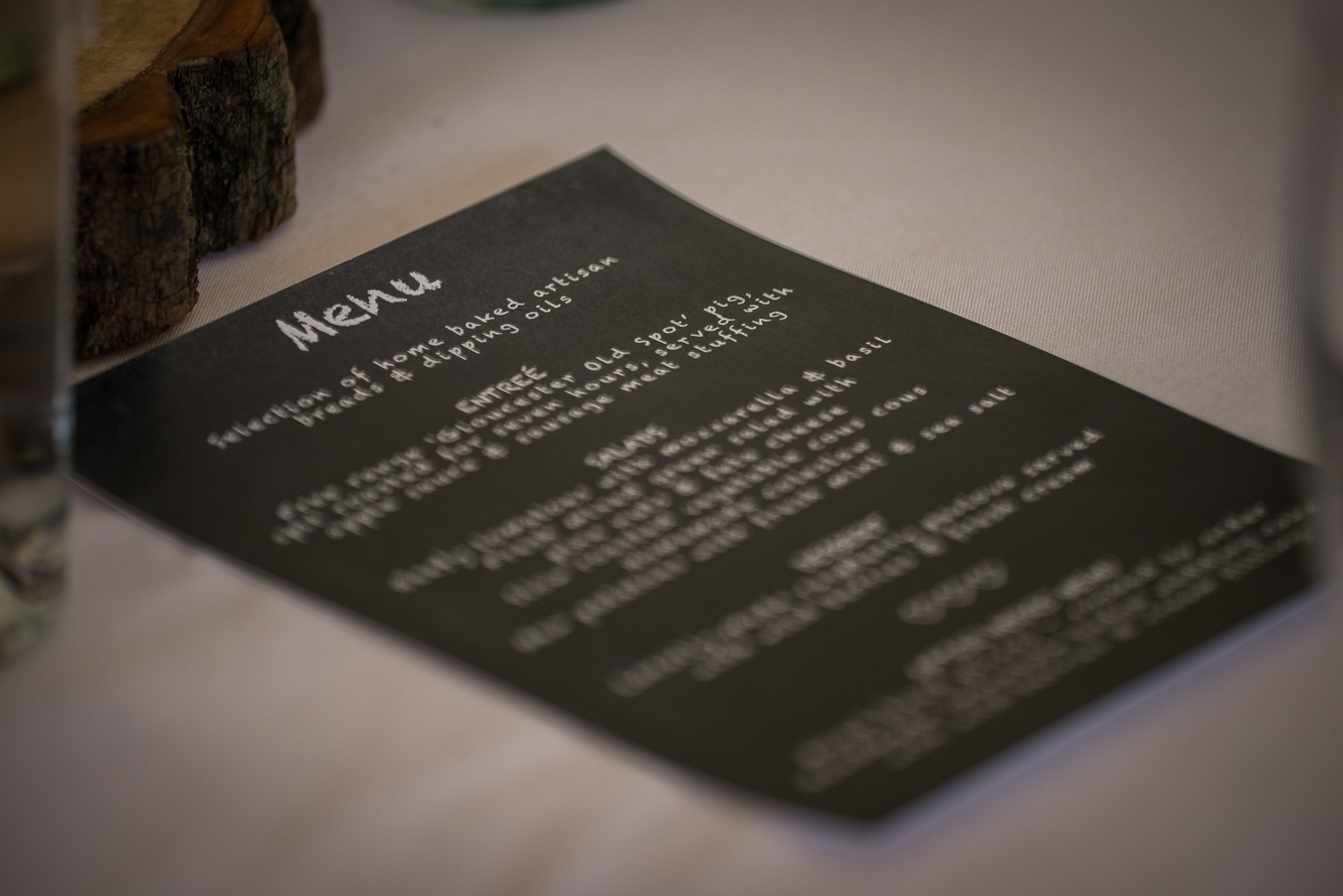 Outside, lanterns had been arranged in the gazebo, along the wall and on tables set up on the lawn. Huge wheelbarrows and pots of flowers were placed around the tent - all grown by the family and family friends.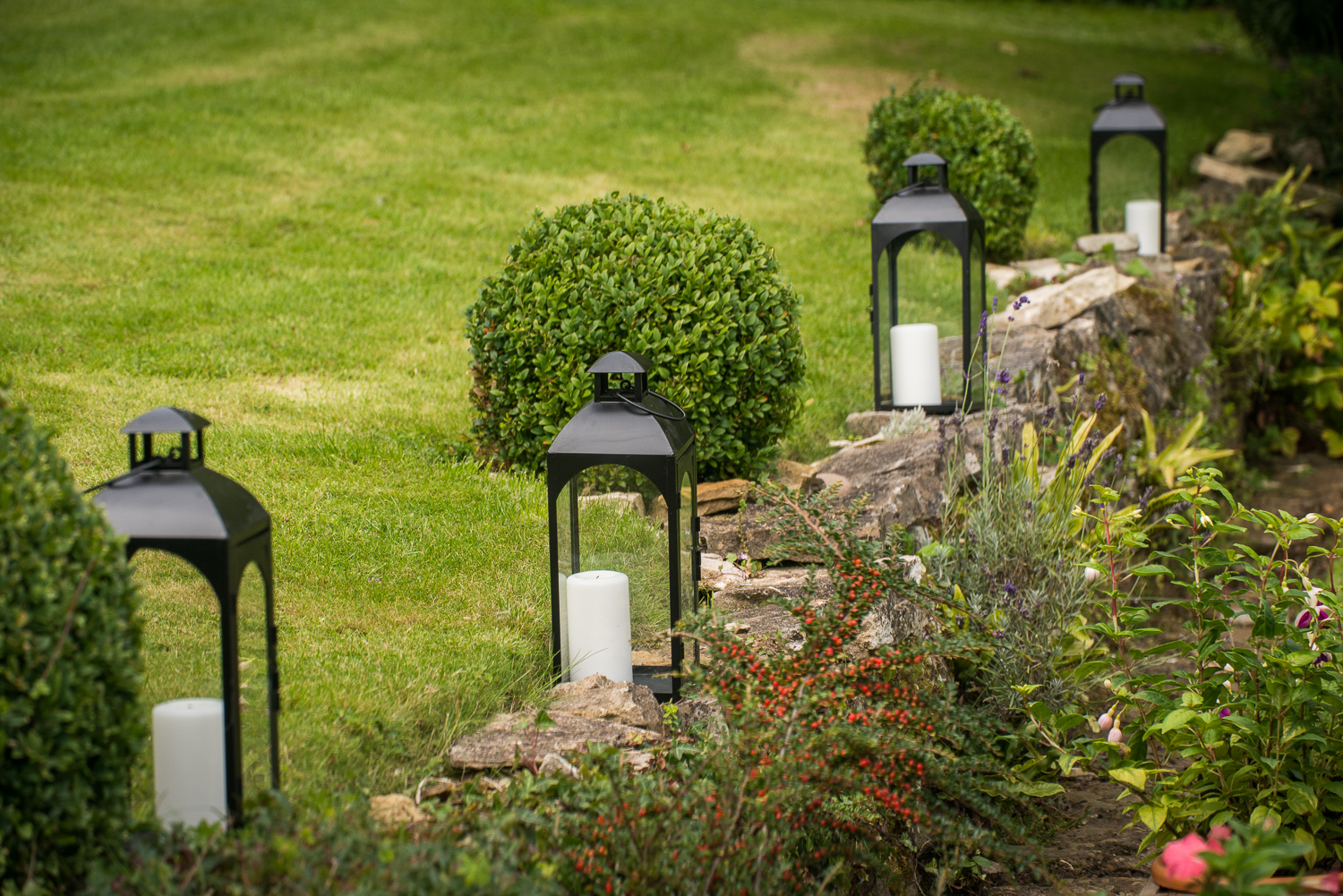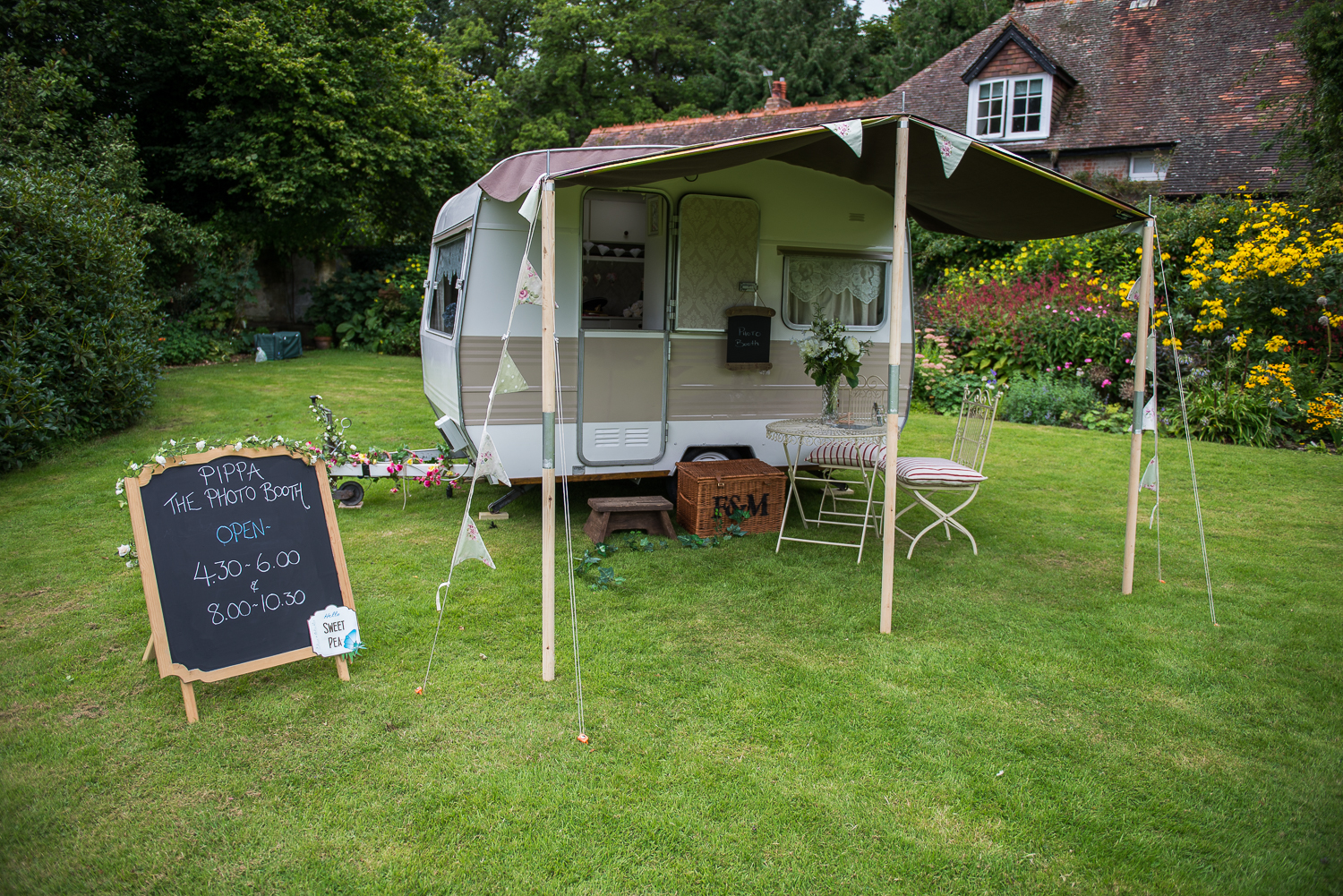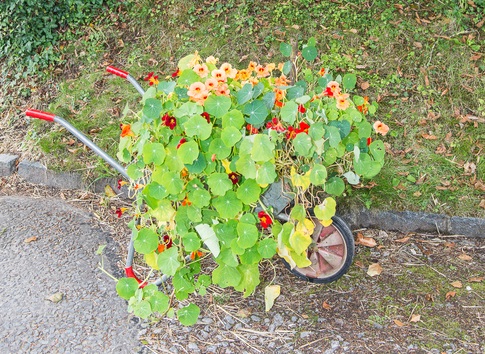 Guests had their photographs taken in the vintage caravan photo booth shown above (www.hellosweetpea.co.uk) where the bridal couple had provided a selection of hats to try on.
The first official photographs taken, everyone repaired to the marquee for a delicious dinner prepared by Julian and Heidi (www.hostaroast.com) who also produced pizzas from their pizza oven later in the evening and the canapes served earlier.
Pudding took the shape of a superb chocolate and berry wedding cake made by http://www.abbystrulyscrumptiouscakes.co.uk/
Drink was available at the bar ( www.southernmobilebars.co.uk ) with personalised cocktails on sale.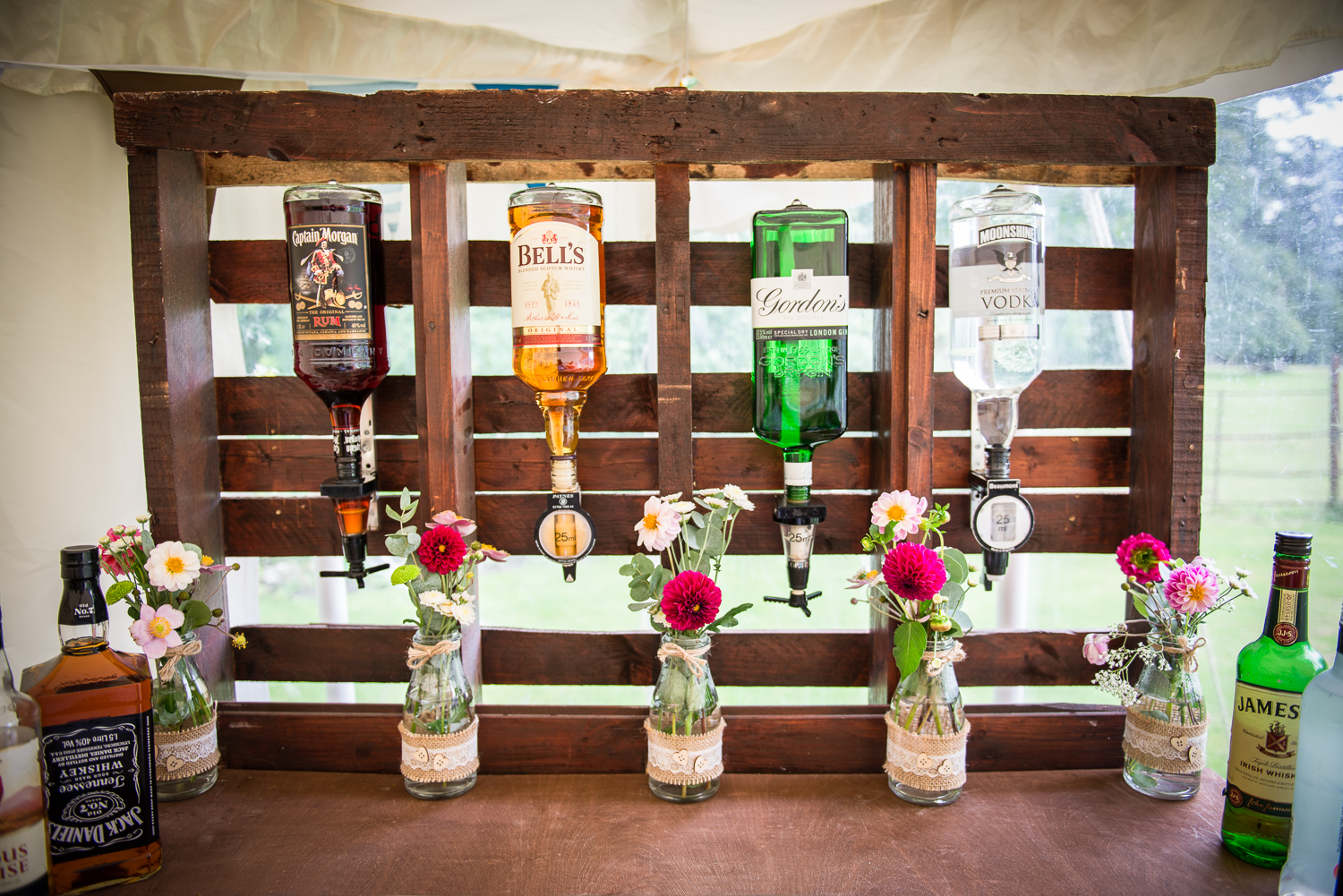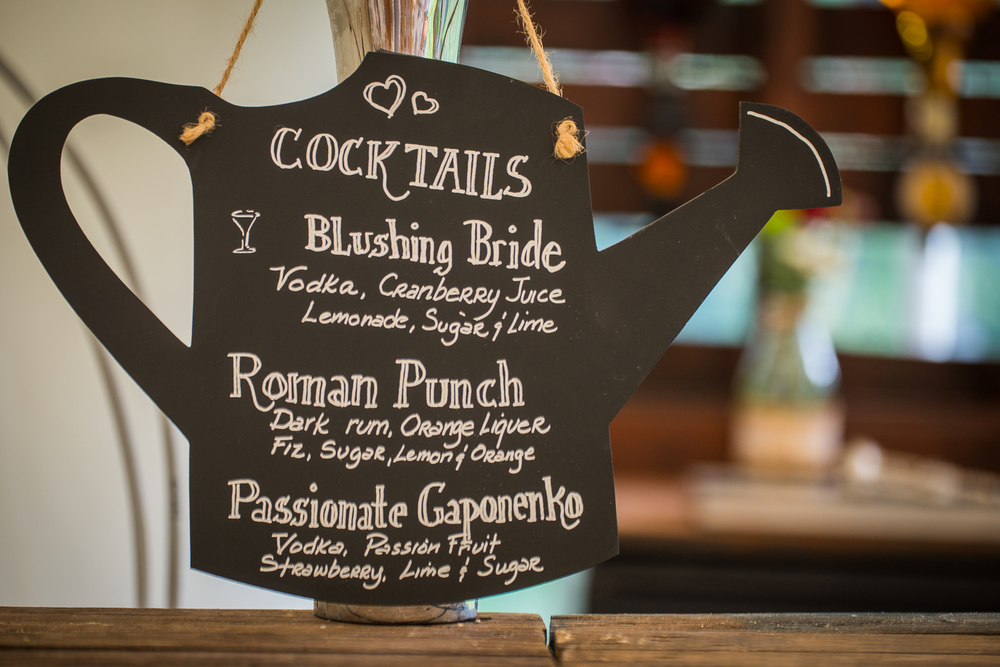 Dancing followed to the sound of a rock band ( http://afterdarkmusic.ie/ ) which packed the dance floor until the witching hour of midnight.
And with the weather on their side, the party continued outside as well.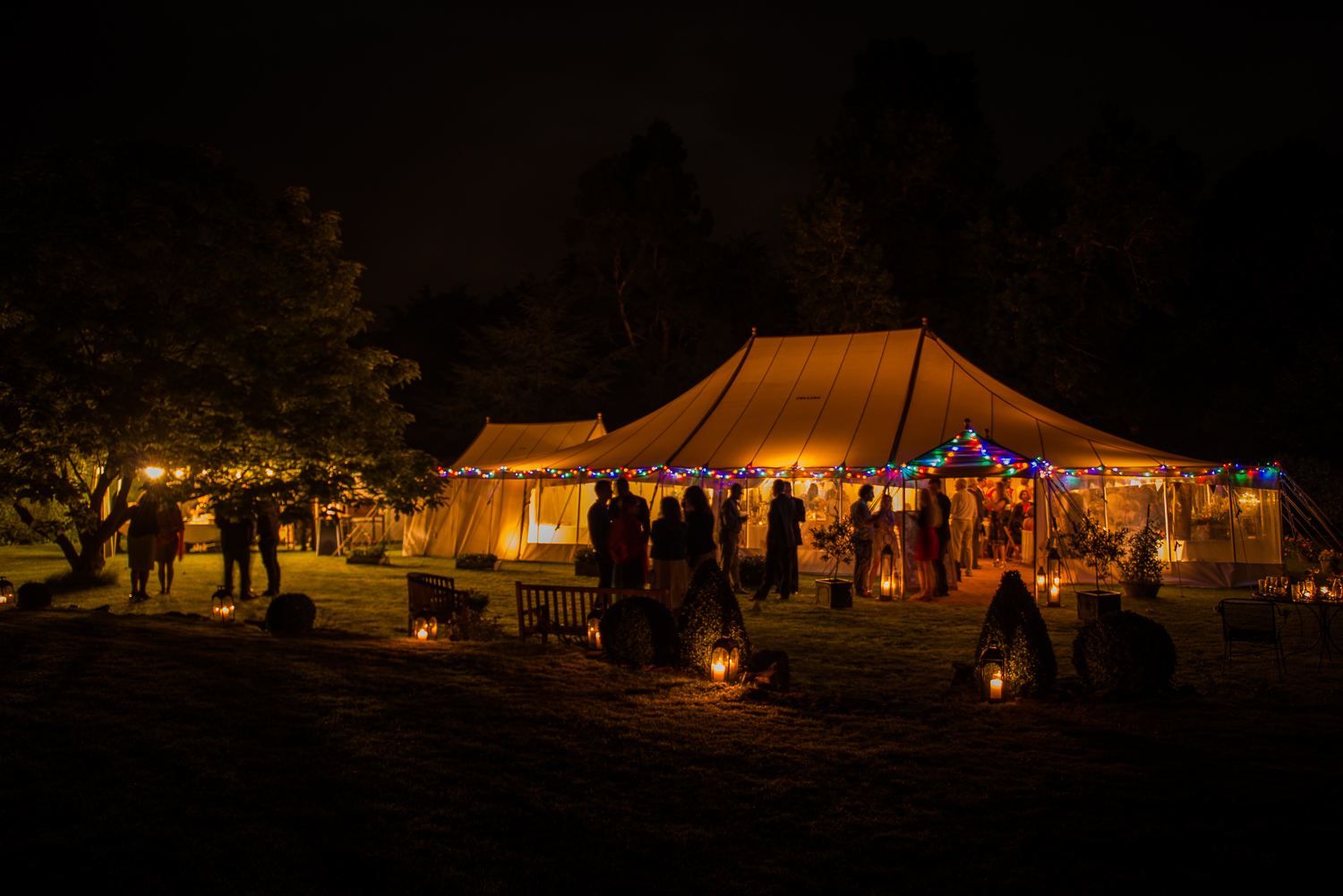 The bride and groom spent the night in one of the bell tents. The following day they hosted a barbecue before chilling out in the glamping field where they stayed another night, bravely gathering round the fire pit in the rain!
It was a wonderful weekend with a mixed feeling of wedding and rock festival - perhaps something to explore one year! - "The best weekend of my life" were the words of the bride.